Slimline
Used in applications with restricted construction depths
ACO Slimline is a discreet, one piece slot drainage system designed for light duty applications such as pedestrian and hard landscaped areas, schools, car parks and residential developments.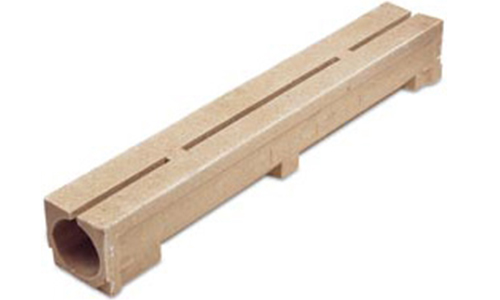 The channel system is manufactured from polymer concrete and has an integral intake slot.
ACO Slimline is lightweight in design, and is approximately 75% lighter than conventional concrete slot drains of similar strength making it easier to specify, stock and install.
The channel is available in 1000mm and 500mm lengths, so installations can be tailored without cutting the channels.
An inspection unit is also available to facilitate cleaning, as well as special ACO Slimline sump unit.
The system is certified to BS EN 1433:2002 Load Class C 250.
Features
Discrete and attractive drainage system for landscaping and driveway applications
Strong one-piece construction, with integral grating for added security
Light and simple to install
Shallow installed depth saves time and money
Benefits
Strong one-piece construction
Available in 1000mm and 500mm lengths
Range of accessories available
Flat top surface ideal for sports facilities and schools
Not Recommended Applications
Distribution yards
Industrial estates