MicroDrainage conduit files
Download ACO conduit files below
MicroDrainage tests drainage designs against extreme weather events and allows for climate change; giving designers, engineers, approvers and auditors confidence in the safety, effectiveness and efficiency of drainage systems, today and in the future.
The ACO MicroDrainage conduit file includes conduit models for:
You can model the channels using these conduits ensuring that the invert levels are entered as a fixed distance below cover levels. Other ACO channels can be modelled using the standard Micro Drainage model for a U-shaped channel, again fixing the invert level at a fixed distance below the ground levels.
The Q-Brake Vortex Flow Control product is embedded in MicroDrainage, and channels can be modelled in MicroDrainage using ACO's Conduit file, which can be downloaded below:
Featured downloads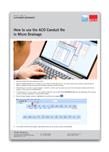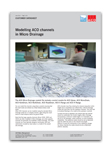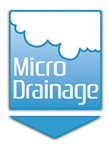 We can assist you