TramDrain 200
High capacity one-piece drainage system
ACO TramDrain is specifically designed to provide drainage for the grooved rail, 4-foot and 6-foot areas of the track slab and the full width of swept path.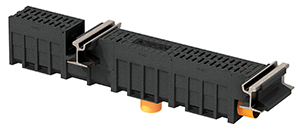 Manufactured from Vienite®, ACO's high strength sustainable material, its robust, monocast construction offers a safe and secure installation by removing the risk of displaced or lost gratings. The properties of the material also provide protection against stray current and corrosion to buried underground services as the material does not conduct electricity.
The main 500mm unit forms the core of the range which also includes an access unit, rail connector and under rail drainage culverts allowing connection to gullies, silt traps or underground drainage.
Features
Provides efficient surface water drainage to the grooved rail profile and to the 4-Foot and 6-Foot sections of the track slab
Designed for use in combined tram and vehicular traffic running areas
Safe and secure installation
Offers stray current protection
Protects against corrosion to buried underground services
Manufactured from sustainable, thermally stable material
Designed to suit a wide range of rail profiles and varying track configurations
Benefits
One-piece design for long-term integrity and security
Manufactured from Vienite®, ACO's high strength sustainable material
Integral grating design eliminates the risk of loss, vandalism or vibration
Large intake area for maximum hydraulic capacity provided by 15mm slots
UKCA and CE marked and fully certified to Load Class D 400 BS EN 1433:2002
Connector sits under the keeper rail collecting water from the grooved rail profile
Optional vertical outlet on Access units
Recommended Applications
Tram schemes and depots
Light rail developments
Not Recommended Applications
Ballasted heavy rail applications
Related products