Wildlife Kerb
Designed to allow amphibians to bypass gully grating
Amphibians in the carriageway naturally follow the line of the kerb, and when they reach a gully grid they normally fall through into the gully below, where they generally die of starvation. The ACO Wildlife Kerb features a bypass recess in the front face which the amphibians follow safely.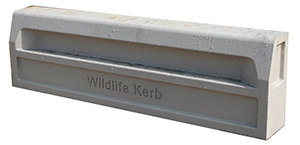 The ACO Wildlife Kerb matches the standard half batter profile, and its 915mm length means that it can be used to replace an existing standard BS kerb without the need for trimming.
The deep weight-reducing pockets at the back of the kerb ensure that they give a good key when the kerb is backfilled after installation.
The ACO Wildlife Kerb is manufactured from Vienite, ACO's recycled polymer concrete material
Features
Provides safe route around road gullies for amphibians on the move
High strength kerb unit
Benefits
"Bypass pocket" set into kerb to stop amphibians from falling into the road gully
Matches the standard HB2 kerb profile
Recommended Applications
Access roads
Highways
Nature conservation areas
Areas identified for mitigation measures
Residential developments
Distribution yards
Industrial estates
Related products