Stop Channel
Prevents small animals accessing the carriageway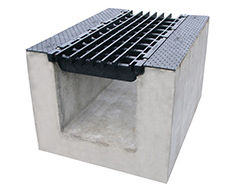 When the continuity of the ACO Guide Wall needs to be broken to allow access from a side road or path, the ACO Stop Channel can be used to allow both access and continuous guidance at the same time.
The wall of the channel aligns with the ACO Guide Wall to form an unbroken guide, while the grid is specially designed so that small animals will drop through into the channel below, preventing them from entering the danger area and allowing them to follow to the next crossing.
The grating is certified to Load Class D 400 BS EN 1433:2002.
Recommended Applications
Not Recommended Applications
Related products