Multislot
Low profile channel system for car parks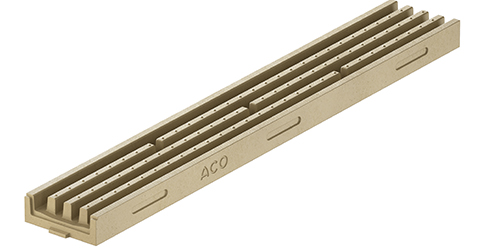 ACO Multislot channels are designed specifically to meet the drainage demands of multi storey and underground car parks.
This low profile channel design is manufactured from corrosion-resistant polymer concrete and has no moveable parts, which reduces overall noise. Accessible and easy to inspect sealing groove make this the ideal channel for these demanding locations, which require robust high-performance solutions.
The channels are available in natural, black and grey finishes to suit a range of surface finishes.
Features
Polymer concrete channel system
Comb shaped channel with no moving parts, for noise reduction
Available in three colours; natural, black and grey
Ideal for concrete and asphalt applications
Fully certified to Load Class C 250
Benefits
Corrosion resistant system
Fast and easy assembly
No moving parts which can cause noise
Easy to seal for a water tight connection
A range of accessories are available
Recommended Applications
Underground, mid and top tiers of multi-story car parks
Design Advice

Need help with your design? Ask our Design Team a question today via our online support facility.
askACO Support is a free to use online service. Our Design Team can provide you with expert guidance on your project, without obligation. Speak to one of our team today.
Related products