Qmax slot drainage - ease of design
On the right line
ACO Qmax is a high capacity, heavy-duty and versatile slot drainage system suitable for surface water management and attenuation. Available in 6 sizes, the range ensures greater flexibility in design for engineers and designers, can help minimise the number of drainage runs required in a project and greatly simplify connecting to the existing infrastructure.
Why does ACO Qmax enable easier design?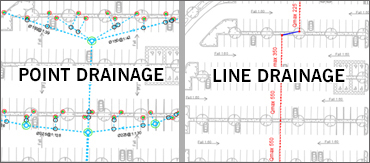 Point vs line drainage and reduced excavation
ACO Qmax line drainage allows simplification over point drainage solutions. In a recent installation at a major distribution hub in Bolton, a proposed point drainage system complete with gullies, pipe connectors and silt trap chambers was able to be condensed into a single large capacity ACO Qmax channel running down the centre of the car park.
This not only reduced significant potential excavation, as well as associated cart away and fill material costs, but simplified a complicated proposal into a resilient design where the area of the channel could also be utilised for surface water storage, without the need for a separate system.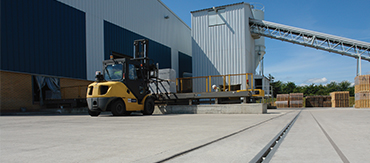 Optimising and designing your own drainage runs
Keeping the number of drainage runs to a minimum is often a challenge of effective drainage design. In the Mansfield Brick manufacturing plant twenty interlinked runs totalling over 1000 metres of Qmax 225, 350 and 600, all fitted with a heavy duty edge rail, receive run-off from across all the handling and stock areas. The high capacity of ACO Qmax allowed the number of runs to be reduced and a very shallow fall pavement to be cast; which met the the requirement to keep the pavement in the stocking yard as level as possible.
ACO have a free to use hydraulic design software, ACO QuAD,
that allows you to optimise your drainage runs with the various sizes of the Qmax system. Click below to find out more.

ACO Qmax downloads
Qmax Brochure
Find out more about ACO Qmax, our high capacity slot drainage system suitable for A 15 to F 900 applications.
Download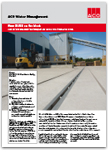 Mansfield Brick case study
Find out how twenty interlinked runs of Qmax 225, 350 and 600, were designed to receive run-off from across all the handling and stock areas.
Download

Choice of discreet railing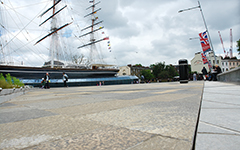 It is generally accepted that the way line is utilised will critically influence the flow of any landscape, not least in the urban environment. The long 2 metre lengths of ACO Qmax's edge rail can complement the flow of any landscape while masking a high capacity underneath.
At the Cutty Sark Gardens, situated in historic Greenwich, 10mm inlet edge rails were installed within the natural breaks between the granite paviours, forming a virtually invisible solution and enabling an easier design with the surfacing material.
New Qmax composite rails
Qmax channels are now available with ACO's new Q-Guard composite rail to add to the existing Q-Guard in this material. Q-Guard comes with added HeelGuard inlets suitable for pedestrian areas, for use in a wide range of drainage applications with A 15 – F 900 load class.
Tough and durable composite construction
Accurate vertical and horizontal alignment
Will not rust / UV stable / flame resistant
Available in black and grey composite
To see how ACO Qmax rail choices look in different applications try our Surface + Grating Visualiser:
ACO Qmax ease of design video
ACO Qmax technical files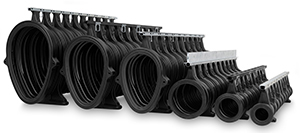 ACO Qmax technical product files
The ACO Qmax system provides optimum surface water drainage and attenuation for a wide range of infrastructure, industrial, hard landscaped and other SuDS applications.
Available in sizes: 150, 225, 350, 550, 700 and 900
Supports all Load Classes up to and including F 900