ACO Pipe
Push-fit stainless steel pipe system
The ACO PIPE range provides our customers with access to high quality stainless steel pipe and fittings in sizes ranging from 50mm to 315mm. We also have a comprehensive range of more than 2,000 stainless steel pipe accessories and our stock levels mean we can normally deliver upon receipt of order, enabling market-leading customer service.
Features
Manufactured in 304 and 316 grade stainless steel pipe
CE marked and fully compliant with EN1124
Full compatibility with ACO channel and gully systems
EPDM and Viton seal options
Fully pickle passivated
Benefits
High performance and durability
Optimal hygiene
Push-fit design for easy installation
Service and technical support
100% recyclable after use
Recommended Applications
Prisons
Leisure Centres
Airport terminals and railway stations
High end residential
A wide range of commercial applications
Food and drink manufacturing facilities
Foodservice outlets
Hospitals and healthcare facilities
Pharmaceutical manufacturing and laboratories
Featured Downloads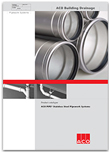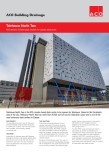 Telehouse North Two Case Study
Telehouse North Two is the fifth London-based data centre to be opened by Telehouse. ACO Building Drainage delivered a stainless steel pipe solution within the given timeframe and budget.
Download
Related Products